Who We Are and What We Do
We build and manage a wide range of properties to meet a variety of needs within East Lothian.
From our office in Haddington, we currently manage around 1,400 properties for rent and shared ownership throughout East Lothian.
We:
Are a non-profit distributing charitable organisation registered with The Scottish Housing Regulator (SHR) and The Office of the Scottish Charity Regulator (OSCR) and are committed to serving the housing needs of the residents of East Lothian.
Are run by a voluntary Management Committee of up to 15 members drawn from people with experience in all walks of life, who live, work or have some other interest in or connection to East Lothian.
Were established in February 1988 by a steering group of local people concerned about the growing housing needs within the District and particularly in rural areas.
Provide accommodation for families, single people, the elderly and people with physical disabilities and special needs.
Manage East Lothian Care and Repair, who provide help and advice to disabled and elderly home owners and private tenants on financing and carrying out housing improvements, adaptations, repairs and maintenance.
Have a wholly owned commercial subsidiary, R3 Repairs Limited, which as well as carrying out most of our maintenance, also provides repair and maintenance services for other landlords and private customers.
Our Vision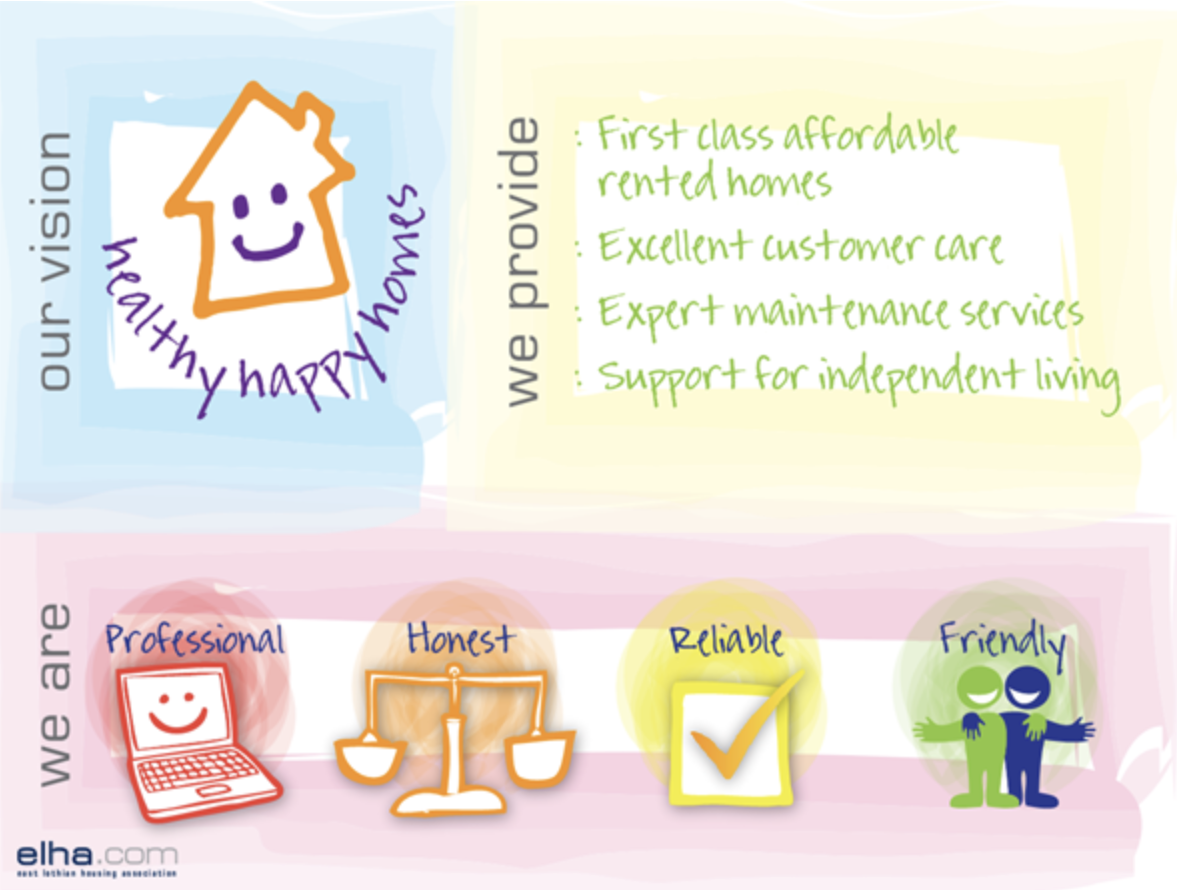 Our Management Committee
Our Management Committee is made up of volunteers who are Members of the Association.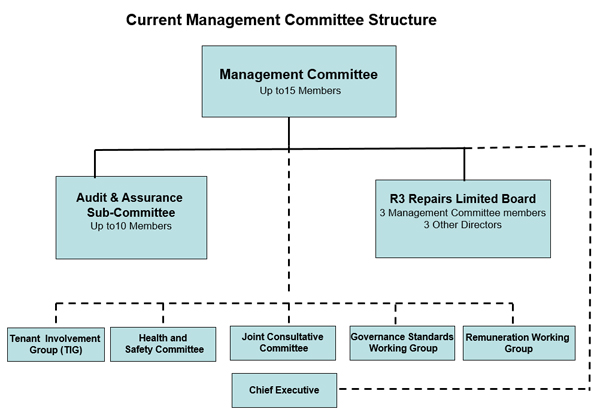 You can find out how to become a Member of ELHA and more about our Management Committee Members by clicking the links below.
A Register of our Members may be available on request by e-mailing us at enquiries@elha.com or by calling us on 01620 825032.
Our Management Team
Our Management Committee is responsible for setting our strategy, policies and financial decisions, but delegates day-to-day management of the business to staff led by our Chief Executive and our Senior Management Team, whose profiles are provided below.
Senior Management Team Profiles
Our People
Although we have departments or service areas, with a Manager for each service area, the principle of our structure is based around three zones – Service Provision, Service Support and Strategy and Development. The purpose of our business is to provide services, therefore the majority of our staff work within the Service Provision zone. Those in the green Service Support zone provide vital support services and management to those in the yellow zone. The Senior Management Team forms a small nucleus in the blue zone responsible for overall strategy and development.
The design of our People Chart is also significant. Senior staff are at the bottom of the chart, not at the top. There are no hard "top down" lines of seniority, instead the lines are designed to show a supportive structure. Whilst, of course, staff must follow instructions their managers give them, the principle is that the Service Provision zone is the most important, and the objective is to ensure that staff in that zone have the tools, support, knowledge and training they require to provide those services as effectively as possible. Their support and development needs should filter down through the structure, and it is the responsibility of staff in the green and blue zones to provide and/or develop that support.
We are full Members of Employers in Voluntary Housing (EVH) and ELHA staff are employed on EVH Terms & Conditions and EVH payscales.
Our Corporate Plan
The diagram below illustrates our corporate planning process.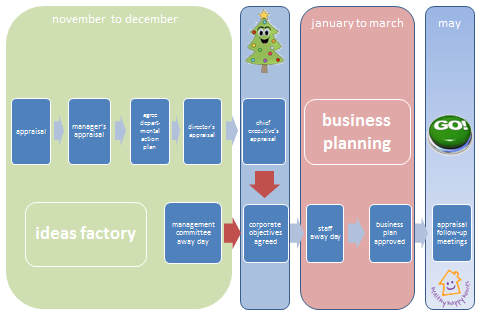 While ELHA is committed to openess and transparency in all of our work, our subsidiary company, R3 Repairs Limited is a commercial business, and our business plan may contain commercially sensitive information. If you would like any information contained in our business plan, please get in touch and we will do our best to help.
Rules & Regulation
In 2015 we adopted the Scottish Federation of Housing Association Charitable Model Rules (Scotland) 2013, which were published by the Scottish Federation of Housing Associations (SFHA) in co-operation with the Scottish Housing Regulator (SHR). We are regulated by the SHR and the Office of the Scottish Charity Regulator (OSCR). Our level of engagement with the SHR is low, but we do have an Engagement Plan, as we are developing new properties.
Office of the Scottish Charity Regulator
Scottish Federation of Housing Associations
Our Standards
Although we operate in a comprehensively regulated sector, we are also very clear about the standards of probity and professionalism expected of our volunteers and staff. The documents below provide an insight into the high standards expected.
Management Committee Expenses Policy
We maintain registers of relevant information about, for example, any incidents of fraud or theft or bribery, and these may be accessed by e-mailing enquiries@elha.com or calling on 01620 825032.
Code of Conduct for Management Committee Members
Anti-Bribery and Corruption Policy
Our Key Partners
Partnership working is key to what we do, and although we don't have any partnership projects ongoing at the moment, we work with many organisations and individuals on a regular basis to achieve our goals. More information can be found below.