Booking a Property Inspection or Requesting a Heating Demo
If you're not sure you're using your heating system correctly, or if you'd like to raise concerns about your home, you can book a visit from one of our Property Officers through the Report a Repair tool in My Home.
Click the Report a Repair button in the My House box, and:
1. Select the 'Large Job' option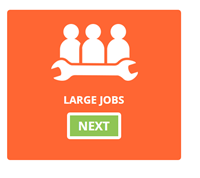 2. Put 'Heating system demonstration' or 'Property Officer visit' in the summary
3. Pop the details of what you're looking for into the explanation box (please make sure to mention what heating type you have if you're booking a demo)
4. Click the Book Your Appointment button to open up the scheduling system and book your preferred day / time*
*Please note that Property Officers may only be available on specific days, for example, they may only be working in the east side of the county on a particular day, so there may be no appointments available for that day in the west. If you are only available on a day with no available appointments, please contact our Asset Management Team, by using the contact form in My Home, e-mailing maintenance@elha.com or calling 01620 825032 and choosing the 'other repair and maintenance' option on the phone system.