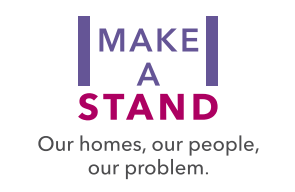 We are proud to have signed up to the Chartered Institute of Housing national campaign to help tackle domestic abuse. By signing the pledge to 'Make a Stand' we have made four focussed commitments to provide support to those who experience domestic violence.
We have put in place a policy to support our tenants who are affected by domestic abuse
We have made information about national and local domestic abuse support services available on our website and in other places that is easily accessible for tenants and staff
we have put in place an HR Policy to support members of staff who may be experiencing domestic abuse
We have appointed a champion at senior level in ELHA (our Director of Housing, Karen Barry)
All our staff will undergo training to recognise the signs of domestic abuse and provide support and information to survivors. Domestic violence is one of the biggest issues in society today with a large proportion of it going unreported. Research suggests that many millions of people are affected every year and tragically, two women in the U.K. are killed every week by their partner or ex-partner.